ACCOMMODATION REGISTRATION
Accommodation registration is now open. Book early in order to get the best rates.
* Important Dates/Notes
Special congress accommodation rates end on June 7, so please book your accommodations by that date! After this date, any bookings will go up to the regular rates for these bookings.

You must use this website in order to receive optimum accommodation rates for the conference even after the first block of conference rooms have been allocated.

The accommodation website is optimized by using Chrome or IE. Old versions of Macs using Safari can sometimes have difficulties/system can be slow. If you are having problems it is also possible to book directly through the Reservations Office stating that you are booking for the InSEA 2019 World Congress | Tel- 604 822 1000, Toll free –1 888 822 1030, Email – reservations@housing.ubc.ca

We strongly encourage you to book accommodation at Ponderosa rather than Gage as the conference is situated very close to this site. Moreover, the average July temperatures in Vancouver is 14-22 C. Gage may have air conditioning but it is not needed, especially in early July. The Congress has made a significant deposit to hold rooms at Ponderosa and not Gage because there are many more advantages to this accommodation.
INSEA 2019
ACCOMMODATION
The following accommodation types have been reserved for InSEA 2019 at the Point Grey, Vancouver Campus of the University of British Columbia. These accommodations combine the city's most spectacular views and location with the best value and variety of rooms possible. On-campus accommodation also offers the convenience of being in close proximity to the meeting events and other delegates. There are rooms to fit all budgets.
* Accommodation rates are based on availability at the time of booking. Please book early to secure your preferred room type.
* Double occupancy rates are for up to two people per room or suite. There is a charge for additional guests.
OPTION 1
West Coast Suites
Contemporary private one bedroom suite with king bed in bedroom and queen sofa bed in living room. Sleeps up to four people. Kitchen equipped with stove top, dishwasher, microwave and bar fridge. Washroom with shower (bathtub on request), free wireless internet, and LCD TV. Suite has air conditioning.
OPTION 2
Standard Suite | Studio Suite, Ponderosa Commons
Private suite with double bed in bed sitting room with phone and internet. Sleeps one or two people. TV, washroom with shower (no bathtub). Fully equipped kitchen. Suite does not have air conditioning.
Standard Suite | One bedroom suite, Gage Apartments
Private suite with a king bed in the bedroom, queen sofa bed in the living room. Sleeps up to four people. Washroom with shower(no bathtub). Fully equipped kitchen. Includes phone, TV and wireless internet. Suite has air conditioning. Rate is based on single or double occupancy; $25.00 charge per night applies for each additional guest.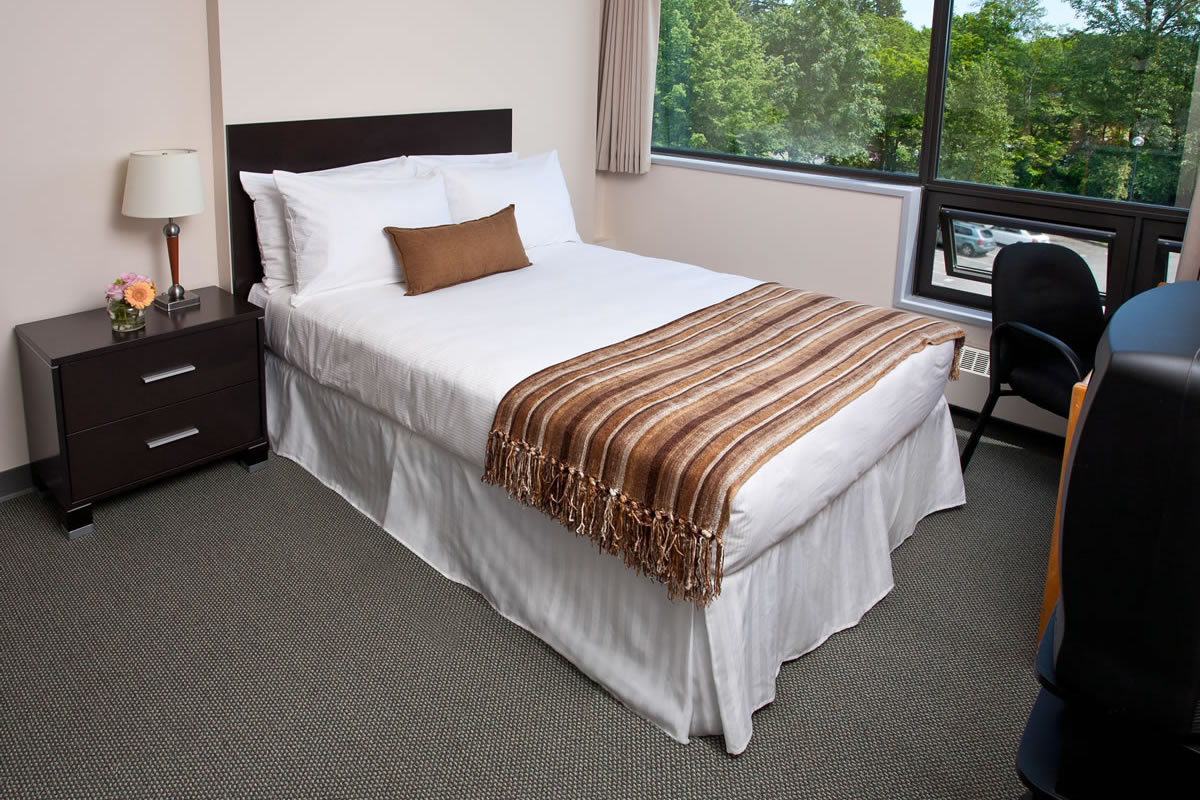 OPTION 3
Budget Rooms, Shared apartments | Premium Single Room, Ponderosa Commons
Private single bedroom with internet and phone. Sleeps one person. Guests share common lounge with unequipped kitchen, TV and two washrooms each with shower (no bathtub) with three other guests. Room does not have air conditioning.
INQUIRIES
If you have any questions please contact us: